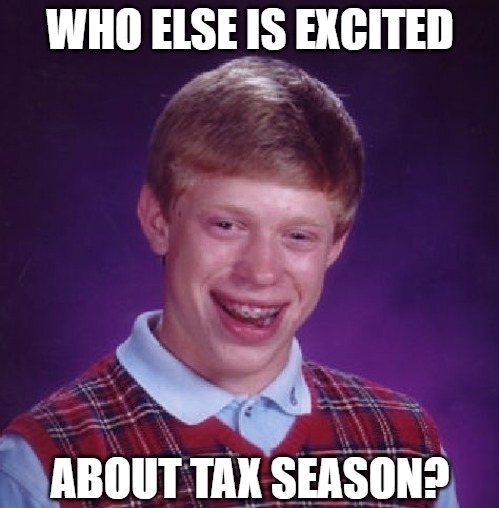 Can you feel that? There, right there! Surely you must have felt that…no? That's okay, Tax Season is coming whether you're ready or not!
Last Tax Season disappointed the experts over here at Bourke Accounting. The extended deadline robbed them of the drama and adrenaline-driven urgency they've come to crave. There were no last minute, anguished calls from clients, desperately trying to file hours before the11th hour. We didn't work late – we didn't even work on weekends! Yes, last Tax Season can be chalked up as an all-around disappointment. Hopefully, this Tax Season will fulfill Bourke Accounting's expectations.
Thanks to the CARES Act, it seems that this year's tax returns are shaping up to be a little more interesting than usual. For example, some people have wondered if they're going to be taxed on that stimulus check we received a few months ago. While taxpayers need to report the stimulus payment on their 2020 return, it's being treated as a fully refundable tax credit and, therefore, not included in gross income or subject to taxes (Barrons.com). So, for anyone who was worrying: you don't have to.
Besides stimulus payment questions, taxpayers are also speculating about their Paycheck Protection Program loans. The Paycheck Protection Program was designed to help small businesses attempt to survive in a Covid world by allowing them to borrow 2.5 times their monthly payroll costs (or $10 million, whichever was lower) (SmartAsset.com). As long as the money was used to pay for approved business expenses, such as payroll, rent and utilities, the loans will be forgiven. However, the IRS warns that "any expenses paid with money from those PPP loans cannot be deducted from taxable income" (DaveRamsey.com). In addition, in order for the loan to be forgiven, taxpayers must have a loan forgiveness application approved by the Small Business Administration (DaveRamsey.com). However, with the SBA "processing the applications for $525 billion in loans given to 5.2 million borrowers," (DaveRamsey.com), authorities suggest getting comfortable, as application approvals are going to take a minute.
Another CARES Act change we're going to see this year has to do with early distributions from retirement accounts. Usually, if you were to raid the 401(k) cookie jar before your 59 ½ half-birthday, you'd be slapped with a 10% penalty. However, the powers that be realized that it's not too cool to penalize unemployed people for feeding their families with their own money and have temporarily waived the penalty. In order to avoid paying 10%, the reason for the distribution has to have something to do with the virus; job loss, quarantine, reduction in pay/hours or the closing of your business all count as coronavirus-related reasons for distributions (ConsumerFinance.gov). Remember: if you're planning on an early, penalty-free distribution, you only have until December 31st of this year to make it happen!
These are just a few of the tax return/Corona-related modifications that we can look forward to this Tax Season. Trust me, there are more. It's comforting to know that, even though 2020 has gone sideways, the IRS and Congress are still busily working on guidance to help tax preparers and taxpayers get through another bizarre Tax Season!
While Tax Season is far off in the distance to you, Bourke Accounting experts are getting ready. By the time you drop off your important documents, Bourke Accounting pros will already know how to handle any issue that might pop up. Bourke Accounting's bookkeepers and tax preparers know that, without dedication and education, Tax Season is simply impossible.
Come see us any time. Our number is 502-451-8773 and don't forget to visit our website at www.bourkeaccounting.com. See you soon!
Written by Sue H.