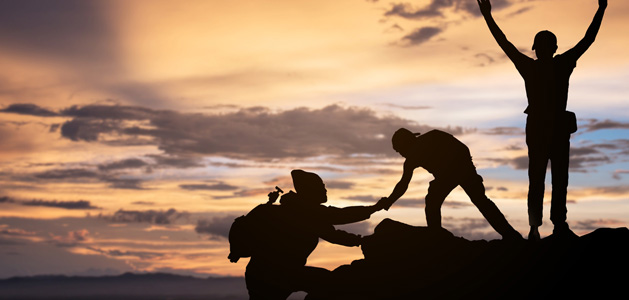 Bourke Accounting professionals are fairly civic-minded; we know that we don't live in a vacuum and, as humans, it's sort of our job to help each other. This is not to say that we're over here, single-handedly saving the world, but we do what we can. This fact has become pretty apparent now that the giving season is lurking just around the corner: a good percentage of our daily mail is made up of donation reminders from charitable organizations.
Even with the CARES Act allowing non-itemizing taxpayers to deduct up to $300 of donations on tax returns, many of us will find ourselves unable to donate this year. Reduced work hours or total job loss mean that there is less "extra" money available to help those in need. Although monetary donations help charities continue their good work, we can still perform good deeds this year without ever opening our wallets. After all, money isn't everything.
One suggestion is that we all become organ donors. The coronavirus has affected nearly all aspects of our lives, including creating a shortage of donatable organs. For example, 33% of donated organs originate from traffic accidents and, because of lockdowns and travel restrictions, we've seen a 23% decrease in these accidents (Forbes.com).  After accidents, strokes and heart attacks are the second and third most common ways in which we receive organs. However, more people are passing at home instead of hospitals right now, making their organs unusable as a result of lost blood flow (Forbes.com). While it's hoped that your benevolence doesn't come to fruition for many years, your donation can potentially save multiple lives and it only takes a minute to sign up as a donor.
Another non-financial way to help is by donating bone marrow. Obviously, this is more involved than signing a check, but it's worth it. Bone marrow donations help people with illnesses such as leukemia, sickle cell anemia and immune deficiency disorders (HopkinsMedicine.org). Right now, only 2% of our population is currently on the national registry for marrow donation (IJ.org); with around 18,000 people who could benefit from this gift each year (BloodStemCell.HRSA.org), we need to step it up. While bone marrow donation does entail an actual medical procedure, it's very safe: considering the more than 35,000 people who have donated, there has never been a single recorded death (IJ.org). Documented side effects include hip and muscle pain, fatigue and headache (BetheMatch.org). Of course, no one likes side effects, but donors agree that these side effects, while annoying, are not severe and are fairly short-lived. As one donor stated, "Yeah, my body hurt for a while, but what's that compared to a kid being at her 8th birthday party" (Personal conversation with donor)?
If you don't want to think about your internal bits and pieces, what about donating hair? There are many organizations that want your hair to make free/low-cost wigs for people living with maladies such as chemotherapy and Alopecia. A quick trip to your stylist can mean the world to an afflicted person by providing "self-confidence, strength and hope" (Cancer.net). With very little effort on your part, you can prove that no one is ever really alone.
There are a lot of worthy causes out there. In general, but specifically now, we should give what we can to help each other. Whether you're able to donate money, time or even just a sympathetic ear, let's remember that it's the giving season. And keep in mind: studies have shown that there's a link between generosity and happiness!
Bourke Accounting bookkeepers and tax preparers are givers. Bourke Accounting reps will go far out of their way to make sure that you're always satisfied. To Bourke Accounting experts, half a job is no job at all and their work proves this to be true. At Bourke Accounting, there is no such thing as an unhappy customer.
Come see us any time. Our number is 502-451-8773 and don't forget to visit our website at www.bourkeaccounting.com. See you soon!
Written by Sue H.