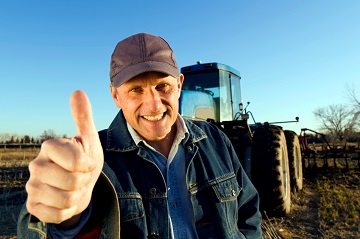 The way things are going, wouldn't it be nice to leave the corporate world behind? Have you ever considered buying a little farm, waking to the sound of roosters each morning and filling your days with the good, honest work of teasing a living from the land. Sure, your muscles will ache, but clean dirt is easier to get off of your hands than cyan ink from exploded printer cartridges. If this is your dream, then you're in luck; not only do Bourke Accounting experts know their way around corporate tax returns, they also know what to do with a farmer's return.
As with other businesses, farms are eligible for tax breaks. However, if you think you can just start deducting because you have a few rows of corn in your backyard, please believe that the IRS might get curious. The differences between a "hobby" farm and a business farm are actually the same as any other hobby and self-employed business. For example, you have to show that you're operating your farm in a businesslike manner, you depend on the income from your farming, you change your methods to make the farm more profitable and the farm makes money in some years (Agfax.com). In addition, the IRS expects you to have a business plan, profit and loss statements, "daily activity logs and financial records" (Chubb.com). Obviously, growing and selling some tomatoes after your office job isn't quite going to meet these standards.
Also like in other businesses, farmers are allowed to deduct expenses. Wages paid for farm workers, utilities, insurance and equipment are all examples of deductible expenses (IRS.gov). In addition, depreciation regarding equipment is also available for farmers. In an odd turn that makes sense, even livestock are depreciable "assets." According to Beef Magazine, a cow should be considered a "current asset that is not depreciated" until that cow has her first baby. After that, she is "transferred into the breeding stock as a fixed, depreciable asset" (BeefMagazine.com). The University of Nebraska advises that the number of productive years for most cows is between 3-5 years. If a farmer uses five years for each cow, the general depreciation would be "$250 per head per year" (Beef.unl.edu).
Although some rules benefit farmers, there is one that seriously does not. If farmers suffer crop damage or loss, they can receive insurance payments – which is great. However, that money has to be counted as income on tax returns and the farmer still has to pay taxes on it (Money.com). Also, crop disaster payments, given by the federal government, are counted as income, too (Money.com)! It would seem that some rules make hard times even harder.
And then there are rules that can only be described as shady loopholes. Under the Greenbelt Law in Florida, for instance, land used for agricultural activities are taxed "on the current 'use' value…versus its development value" (SaundersRealEstate.com). This amounts to much lower property taxes. What land developers (who aren't quite ready to build or are in the process of building) do is rent a few cows, let them wander around the property and avoid high property taxes (TheAtlantic.com). Walt Disney World has reportedly saved $1.5 million by employing some of the happiest cows on Earth for this purpose (TheAtlantic.com). Unscrupulous developers save about $1 billion a year in property taxes (UnusualInvestments.com) and it's completely legal.
When you're ready to quit your 9-5 and live off the land, remember that there are programs and breaks to help. And let's all keep in mind that, while technology is amazing, we can't eat computer code. Love to the Farmers!
As we said above, Bourke Accounting tax preparers and bookkeepers know how to handle a farmer's return. Your Bourke Accounting pros will do everything they can to help make your hard-working fantasy a reality. With a Bourke Accounting expert on your side, all you have to do is keep an eye on the sky and Bourke Accounting will do the rest.
Come see us any time. Our number is 502-451-8773 and don't forget to visit our website at www.bourkeaccounting.com. See you soon!
Written by Sue H.