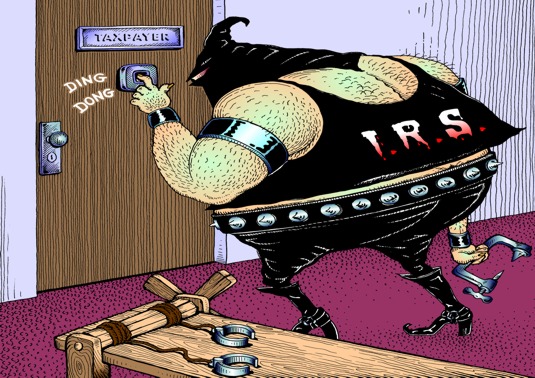 Bill dropped the most recent Kiplinger Tax Letter on my Bourke Accounting desk this morning. I was working on something about staying safe for a fun summer (I'll have to try again, I was boring myself), so I decided to take a break and see what ol' Kiplinger had to say. "Well, I'll be dipped," I said to myself when I reached the end of the pamphlet. The IRS is back in town.
While a few states have already opened their offices, Kiplinger reports that all IRS offices are slated to open on July 13 (Vol. 95, No. 13). Maybe it's just me, but the idea of closed and dark IRS offices – stained coffee makers gently rotting amid the dustmotes – was very unwholesome to me. Now I feel better that the IRS is open for business, but I know of one group who won't.
Back in January, I told you that the IRS doesn't have enough workers to perform as many audits as they'd like. Well, either a lot of agents were trained over quarantine or priorities have changed; starting July 15 (two days after they reopen), the IRS will "start examinations of several hundred high-net-worth taxpayers" (WealthManagement.com). Why the sudden interest in the Bill Gates of the world? Not being an economist, I have two theories anyway. My first theory is that the IRS had its feelings hurt when the recent Treasury Inspector General for Tax Administration's report accused the organization of failing "to address high-income non-filers" (WealthManagement.com). This study estimated that 34% of these high-end taxpayers owed "an estimated $45.7 billion in taxes" (WealthManagement.com) for the years 2014 until 2016. When Big Daddy TIGTA slaps your nose, you feel it.
My second theory – again, not based on knowledge – is that this is a plan designed to replace corona-spent cash. Obviously, taxes can't be raised, no one would support a wealth tax during an election year and, as far as I know, money trees are still a thing of sweet fantasy. Interestingly, these "examinations" of the rich will be hellacious: the IRS is going to look at all businesses (here and abroad), transfers to kids and kin, bank and investment accounts (here, there and everywhere), offshore transactions, family limited partnerships, foundations and estate planning transactions (Kiplinger, Vol. 95, No. 13). Also, the auditors will "employ a matching program to review across different accounts and reporting documents" (Winston.com). Finally, these auditors will be able to "obtain the books and records of any companies in which the taxpayer holds a financial interest" (Winston.com).
If you happen to be one of the lucky high-income audit winners, remember to be kind – all the bigger organizations are picking on your auditor. If you thought the IRS was humorless before, this newly released report probably stole the last giggle from its collective throat. Make sure to cheer your auditor up with a nutritious and tasty snack!
Bourke Accounting tax preparers aren't hoping that you get audited this year, but they're more than ready if you do. Besides being conscientious, Bourke Accounting pros have a lot of energy. This will come in handy if the IRS decides to meticulously pick apart the last three years of your financial life.  Your Bourke Accounting expert is always available to battle the IRS for you!
Come see us any time. Our number is 502-451-8773 and don't forget to visit our website at www.bourkeaccounting.com. See you soon!
Written by Sue H.