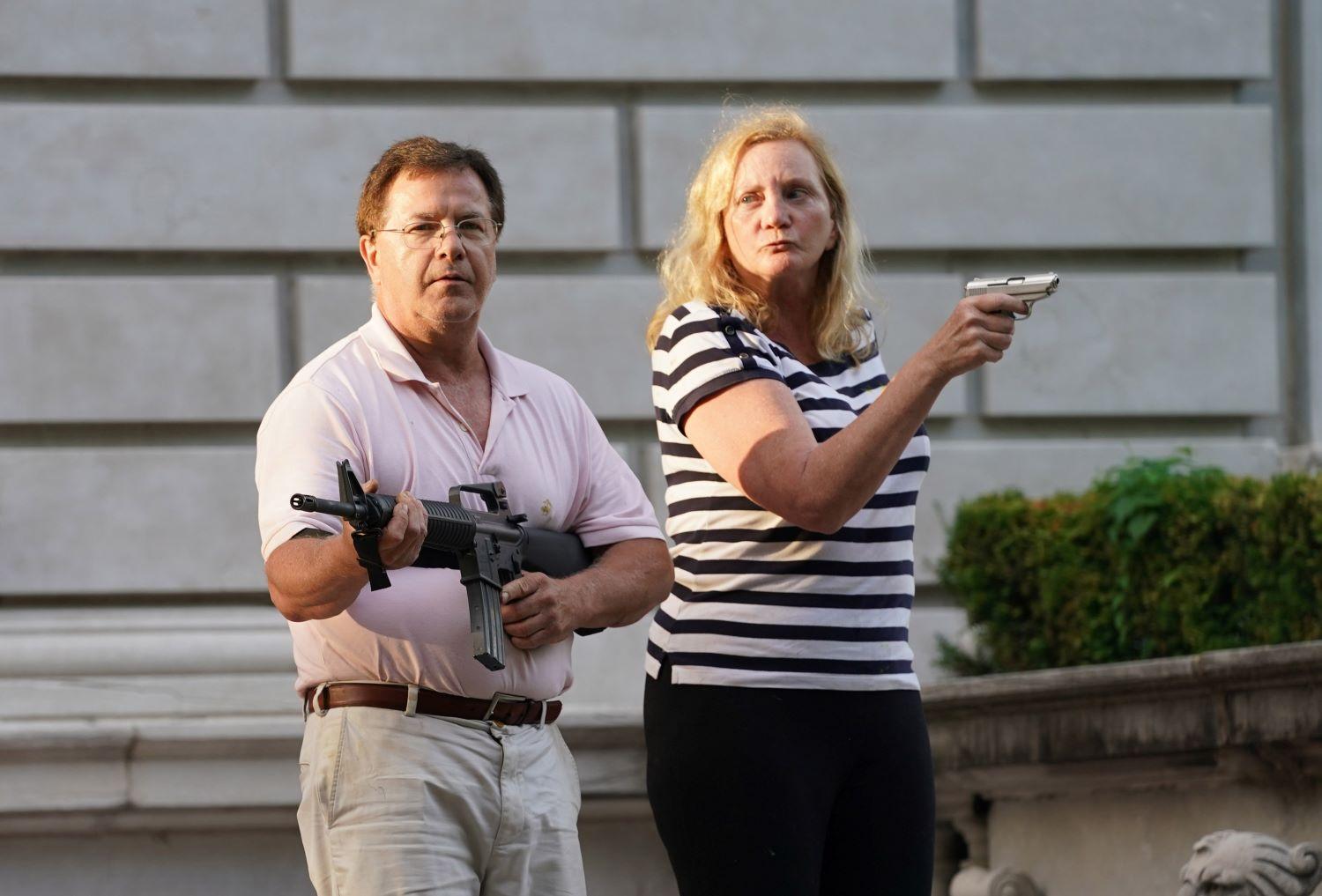 I have never been honestly and truly yelled at while working at Bourke Accounting. Oh, sure, if I make a mistake, I'll get a wisenheimer comment from one of the bosses, but full-tilt crazy person screaming tantrum? No, not yet. Likewise, I have never been physically assaulted while working at Bourke Accounting. No matter what kind of cruddy day Bookkeeper Christina is having, she has yet to throw anything heavy at my skull.
Wouldn't it be nice if the rest of the world followed Bourke's model?
Walking into my local bodega, the guy behind the counter looked unusually harassed. He had just broken up a fight between two patrons. Gentleman A had attempted to rip the mask from the face of Gentleman B; apparently, Gent A was screaming about communists while trying. Gent B took umbrage and punched Gent A in the face. How bizarre is it that a five-inch cloth rectangle can cause two grownups to regress back to the school yard?
Of course, as we witnessed over the Fourth of July weekend, the violence isn't isolated to two idiots slapping each other over the beef jerky display. Weekends, especially holiday ones, are meant to include fireworks and cheeseburgers – instead, we got 160 murders (TheGuardian.com). By July 6, The New York Times reported that, in 36 cities, murder is up 21.8 percent compared to last year. Jerry Ratcliffe, a professor of criminal justice, weirdly theorized that some of the increase in violence can be attributed to drugs. It is his belief that corona has reduced "the market and opportunities for recreational drug use/dealing, which puts stress on the drug markets and increases violence" (NYTimes.com). I'm not sure, but is Ratcliffe suggesting that we all get high to keep the peace in our neighborhoods? I mean, I guess I'll take one for the team, Mr. Ratcliffe, as you're an educated man…
America is in the midst of one of the longest, baddest days of our lives; the trifecta of racial divide, disease and politics has fueled our angst to untenable levels. For example, I watched the St. Louis video of two suburbanites awkwardly brandishing weapons at protestors. These people, the Bonnie and Clyde of Old Navy's Spring Collection, were actually pointing guns at strangers. I understand the instinct to protect one's home, but is this the right way to do it?
But wait! The news isn't all bad! Both Smith & Wesson and Sturm Ruger & Co. are seeing their stock prices increase. Smith & Wesson's prices have doubled and Sturm Ruger "has advanced 62%" (Fortune.com). In addition, the FBI reports that firearm background checks have "soared over 3 million in March and May of 2020" (Wave3.com). I support sober and calm citizens exercising their 2nd Amendment rights, but I'm not sure that we are either of these things right now.
And just to make everything perfect, 2020 is slated "to rank in the top five hottest years on record" (Scientificamerican.com). The best thing to do is stay inside. If you can't, the second-best thing to do is think. A mask isn't worth hurting someone over, a president isn't worth going to prison for and you can't fight the good fight from the grave.
I've mentioned that the Bourke Accounting offices are climate controlled. I've also mentioned that Bourke Accounting pros are calm. When the world gets to you, come and bask in the Zenlike peace that is your Bourke Accounting tax preparer or bookkeeper. Before doing something stupid, let Bourke Accounting's civilized world of taxes bring you back to reality. Remember: the tax deadline is July 15th!
Come see us any time. Our number is 502-451-8773 and don't forget to visit our website at www.bourkeaccounting.com. See you soon!
Written by Sue H.