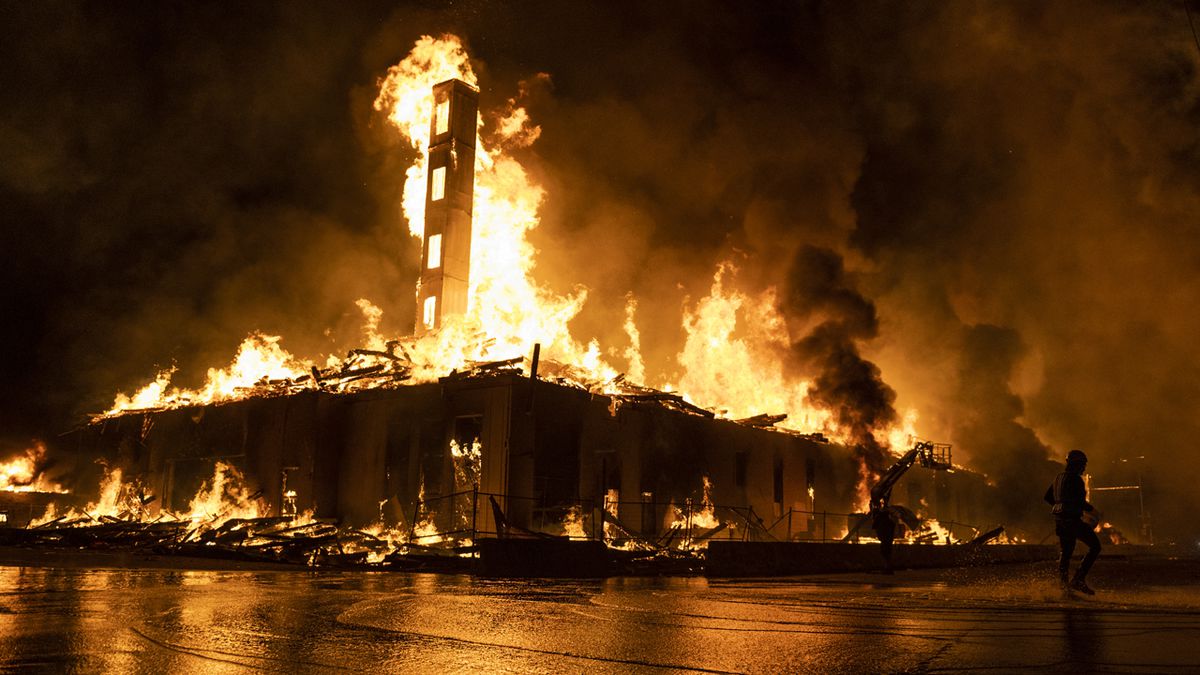 I watched The Purge for the first time last year. I didn't find it to be a charming story on film and the live-action version certainly isn't any more endearing. We're doing this wrong. From tips to toes, we are doing this entire thing all wrong. Protesting deplorable actions is a good thing. Police officers protecting bystanders and businesses is a good thing.
So, why is it that we're getting everything wrong? The amount of violence in our streets is ridiculous. Peaceful protests are turning violent within seconds; police and protesters are ripping each other apart. Is this mob mentality taking control or is it simply stark evidence of deep-rooted resentment and hatred flowing through everyone involved? Or is it both?
For example, on May 30, eight young men brutally beat an unarmed woman with their fists and with 2X4s in front of a shop. There is clearly nothing that says "justice and equality" quite like a group of men punching a lone woman in the head. So, don't you worry, Status Quo, not matter what social changes are made in the future, it will, most likely, still be permissible to humiliate and hurt women. After all, we can't have too much progression at once.
What else? Oh, let's not forget 77-year-old retired officer and security guard David Dorn, who, on June 2, was shot and killed by Stephen Cannon. What was the retired officer's crime? He was responding to an alarm at the pawn shop he watched over. Mr. Dorn, who had nothing to do with the travesty that befell George Floyd, lost his life anyway. For what? Pawn shop trinkets?
Obviously, we must not ignore what the police have been up to. Who could forget Officer Vincent D'Andraia, NYPD's Newest Hit Maker, shoving Dounya Zayer to the ground, causing a concussion. Naturally, he had to remind her that she's a "stupid f——- b—-" (Businessinsider.com) as he pushed her. He showed her that standing peacefully won't be tolerated on his watch.
And then there was the stellar performance of Buffalo, NY cops as they gracelessly pushed Martin Gugino, causing him to fall and hit his head. Mr. Gugino, bleeding in the video, "suffered a brain injury as a result" (NBCNewYork.com). Although the White House Bunker Squatter accused Mr. Gugino of being some super deadly "ANTIFA provocateur" (NYTimes.com), I'm not sure the 75-year-old man was posing enough of a threat to warrant brain damage, anarchist or not.
We're doing this wrong. The police are causing violence to prevent violence; the people are causing violence to protest violence. We must realize that behind the badges and behind the protest signs are real humans, scared and angry. Not every cop is an evil tool of the devil and not every protester is a blood-thirsty criminal (and to be clear, it must also be noted that not everyone out in the streets are even legitimate protesters. Some are merely opportunists). It must also be remembered that the innocent bleed the same color as the guilty. We must stop burning each other down and start putting ourselves back together.
Bourke Accounting professionals share your confusion. At Bourke Accounting, we look forward to a peaceful future, changed for the better. Having your tax returns completed by July 15th isn't going to erase the horrific images that are now playing, but consulting a Bourke Accounting specialist will ease any financial anxiety you may be feeling. If we can offer you even a tiny measure of security, it's worth it.
Come see us any time. Our number is 502-451-8773 and don't forget to visit our website at www.bourkeaccounting.com. Stay Sane!
Written by Sue H.