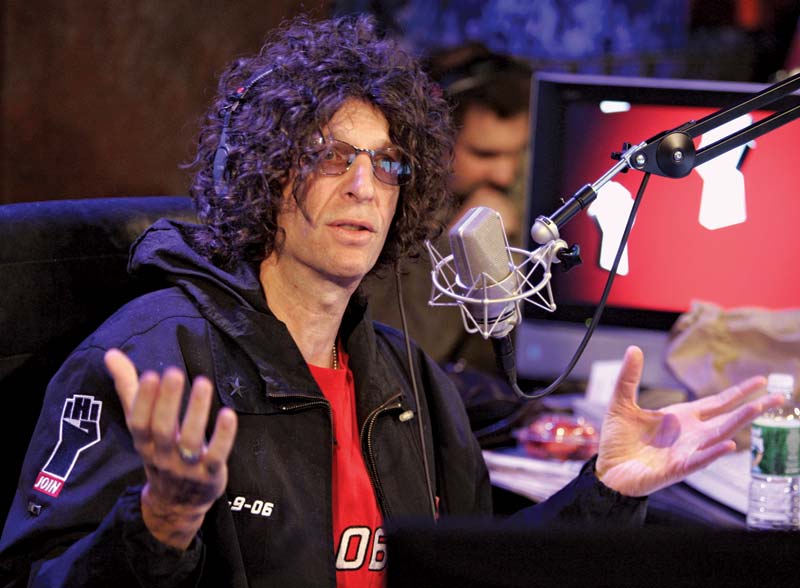 I was leaving my little corner of Bourke Accounting when a friend sent me a text about an NPR program that I just had to listen to. I said that I would, but I wasn't planning on it (while I am notorious for "yessing" people, I am working hard on changing this behavior). Before signing off, my friend added that it was a recent Terry Gross interview with Howard Stern. All right, I became a little interested.
Growing up both in the North, and attending a Catholic school, I listened to Howard Stern religiously. He was naughty and sexual; his morning crew was made up of deranged people and he talked about bodily functions. In short, his radio show was tailormade for grade schoolers. In addition, since he was still on terrestrial radio at the time, it was pretty tame. As I got older, however, I lost my attraction to the show. His constant sexism was tedious and degrading, his guests, and the humiliating antics they subjected themselves to, grew pathetic and, ultimately, I found Stern irrelevant – the one trick the pony knew had become dusty and stale.
When I settled in to listen to the December 2019 interview, I expected Stern to start by inquiring about Gross' bra size. Instead, Stern talked about his ongoing psychotherapy and devastating childhood traumas. He admitted that when he looked back, his past tended to "trouble" (12/31/19 NPR interview) him, as he had grown as a person. Stern also acknowledged that a lot of his outlandish behavior was caused by a desperate need for validation and ratings. I was stunned to find that "Fartman" had grown up.
What is perhaps the most stunning aspect of Stern's transformation is the backlash from former fans. For example, Bruce Bawer, writing for City-Journal.org, lambasted Stern for "bowing to the king to win favor at court." Bawer intimated that Stern's exhibition of introspection and inclusivity made for "a sad spectacle" (City-Journal.org). Bawer also accused Stern of "disowning the best part of his" craft (City-Journal.org). Bawer might want to rethink his philosophy if he believes Stern's "best part" was coercing women to do gross things for breast enhancement surgery.
It's a distasteful human trait, but a lot of people just don't enjoy it when others fix themselves. I find it despicable when people I know accuse newly sober friends of being boring. I don't know how to tell you this, but talking at someone in a coma is a lot more boring than engaging in a coherent conversation. You don't have to be a shrink to know that some folks fear their friends changing. It's comforting to know that, come Friday night, Mike is going to be a drooling mess at the end of the bar. However, if Mike, instead, spends Friday helping out at the soup kitchen, it causes one to look at their own life choices.
Selfishly, some of us like having that one friend to look down on. This toxic thinking makes certain people feel better about themselves: my life is bad, but at least it's not as bad as so and so's life. When the other person first makes positive changes and then – gasp! – actually surpasses her/his "friend's" accomplishments, the friendship dynamic is forever changed.
To put it bluntly, encourage and support positive change in each other. If a friend is leaving you behind, then work harder to keep up! A true friend doesn't want someone to look down on, a true friend wants eye contact with an equal.
Bourke Accounting experts want their clients to thrive. Besides the fact that Bourke Accounting pros are pretty altruistic, there is an ulterior motive: if you don't succeed, Bourke Accounting doesn't succeed. In symbiotic relationships, such as the one you share with your Bourke Accounting specialists, we're all on the same team, here to fortify each other.
Come see us any time. Our number is 502-451-8773 and don't forget to visit our website at www.bourkeaccounting.com. See you soon!
Written by Sue H.