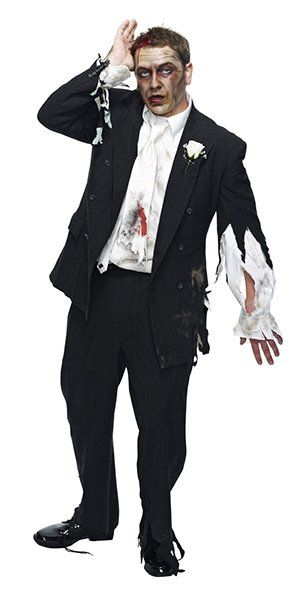 Have you ever started your day by stepping in dog poop on the way to the bathroom (but Fluffy is housebroken!)? Maybe you fought with your significant other, got yelled at by the boss and had your co-worker insult your new pants. In short, have you ever had a bad day? Did you ever consider just faking your own death, running away to a secluded place and living peacefully forever?
If you are one of the over 6,000 people mistakenly declared dead by the Social Security Administration each year (CNBC.com), you could have your wish without the effort! That's right, because of a clerical error, you could be living your best zombie life without the hassle of faking a car crash (and, I guess, finding a body double). All of this can be yours as a result of a mistake made by one of the most powerful organizations in the US.
The Social Security Administration has a database that records deaths in America. This list, the Electronic Death Registration (or the Death Master File, depending on who you ask) is intended, for one thing, as a "measure taken to prevent fraud" (NPR.org). This list stops the baddies from stealing identities or taking out credit cards in a dead person's name. Once a name ends up on this list, the SSA sends the information to "nine benefit-paying Federal agencies, including the Internal Revenue Service and the Centers for Medicare and Medicaid Services" (OIG.SSA.gov). Not only these guys, but banks, credit card companies – pretty much everyone and their brother – share in the sad news.
This database is useful if the person is legitimately deceased. However, if you are still among the quick, ending up on this list is a nightmare. Accounts are frozen, health insurance suspended and Veteran benefits go "poof." So how can this happen? Seriously, it is simply a matter of human error. The SSA gets their death information from funeral directors, hospitals and family members. Okay, that sounds like a good start. These guys should know, right? But, this can turn into a really terrible game of Telephone. According to NPR.org, inputting errors on the part of SSA workers are responsible for 90 percent of accidental death declarations. It only takes one wrong digit to transport you, the innocent bystander, into a confusing new un-life.
So, now you're a pulse-challenged American. How do you fix it? The SSA suggests you go to your local Social Security office with at least one piece of identification (who are we kidding, bring every piece of identification you have ever acquired). After the SSA corrects your record, "you'll be issued an 'erroneous death case – third party contact' notice" (Denverpost.com) that you can show to the nice agencies who have all your money. If, for some reason, you don't get satisfaction from the SSA, Denverpost.com suggests that you call in the big dogs by "contacting your local congressional representative's constituent services office." If you yell loud enough, someone has got to believe you're still alive, right?
Like a lot of weird occurrences, this probably won't happen to you. But if it does, consider that nice secluded place one more time before visiting the Social Security office.
Bourke Accounting specialists don't discriminate based on color, gender, religion or anything else. However, if you're dead on paper, it might be a little difficult to prepare your tax returns. Although, just like during an IRS audit, your Bourke Accounting professional will stand by you until you are reborn and financially solvent again. Even if you are undead, your Bourke Accounting bookkeeper and tax preparer will still offer you the best service anywhere.
Come see us any time. Our number is 502-451-8773 and don't forget to visit our website at www.bourkeaccounting.com. See you soon!
Written by Sue H.