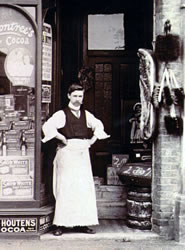 A few years ago, my brother and I discussed opening a shop. We'd sell funky clothes, jewelry and records (records are still cool). We even scouted different neighborhoods for a location. And then it dawned on us: we had no capital, no backers, no inventory (or any idea how to get any) and we had no clue how to open, let alone run, a business. If we had consulted a Bourke Accounting pro, we would have realized the truth a lot faster. But. The dream was nice, anyway.
Most people want to open their own business because, much like my brother and I, they long for freedom from a tyrannical boss, freedom from work that isn't that interesting and, in some cases, isn't that lucrative. Most people want that sense of control that just doesn't happen by being a cog in the machine.
It also doesn't hurt that we see people like Bill Gates and ask: Well, why not me? Easy answer? Because most of us are not Bill. Sad, but true. Also, sad, but true is the amount of new businesses that fail. According to Fundera.com, "20% of small businesses fail in their first year, 30% of small businesses fail in their second…finally, 70% of small business[es]…fail in their 10th year."
Some businesses fail because the demand isn't there. For example, Tom + Chee had a great little restaurant in Louisville in the Highlands. Lots of foot traffic, good location, amazing grilled cheese sandwiches. But, as Eatdrinktalk.net pointed out, "grilled cheese…isn't a whole concept, it's a menu category." As much as I like grilled cheese sandwiches, I wasn't eating Tom + Chee every day. And neither was anyone else.
Tom + Chee is a great example of a point that Michael T. Deane (writing for Investopedia.com) makes: "You have to find…an unmet need within a market and then fill it rather than…force your product…in." Evidently, Louisville didn't feel the need for a restaurant that sold grilled cheese sandwiches exclusively. However, a company like Uber reflects Deane's opinion very well. Uber fills a niche in college towns perfectly: low cost, lots of bars and young people who like to avoid DUIs. Uber is an almost laughably simple concept, however, in 2019 it was "targeting a valuation of $80 to $90 billion" (NPR.org). Simple? Yes. Laughable? Not anymore.
One final thing you ought to consider if you are thinking of starting a new business: what are you like? Eric Wagner, writing for Forbes.com mentions that some new business owners are guilty of "self-sabotage through extremely poor decision making and weak leadership skills." If you're serious about your dream, you should invest some time in management classes and figure out what kind of boss you want to be. Once you start hiring employees, you'll want to be accessible, firm, fair and consistent. You're not going to have a very successful business if you run off your employees.
Want to start a business? Come and meet with a Bourke Accounting expert to get real answers as to whether this is a possibility for you right now. Are you having difficulty with your new business? Sit down with one of our Bourke Accounting representatives and perhaps they can offer insight into why you are struggling and give you truthful, useful advice. If you're planning to live your fantasy, Bourke Accounting wishes nothing but the best for you!
Come see us any time. Our number is 502-451-8773 and don't forget to visit our website at www.bourkeaccounting.com. See you soon!
Written by Sue H.