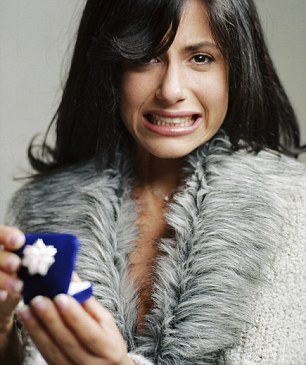 I am a simple woman.
Don't get me wrong, I like a nice Alaskan King crab dinner here and there. I like to go to plays occasionally and I like my clothes to not be falling to the floor in tatters. However, I am not a person who feels the need for a pair of Stuart Weitzman high heels (price tag: $500,000 – seriously).
Because of this, I am rather blown away that the "3-month's salary rule" regarding the cost of an engagement ring is still a thing. And from everything that I've been reading, this practice does continue to be encouraged. However, looking into this topic, I learned some interesting little facts.
First, according to Theknot.com, the De Beers diamond and jewelry company, in the 1930s, started the idea that a diamond was the only acceptable rock for an engagement ring. They did this pretty easily with the advertising campaign of "A diamond is forever" (Brides.com). It sort of implied that, if you didn't give your woman a diamond, then, clearly, your marriage would be doomed from the start. Also, De Beers diamond rings were handed out like candy to movie stars for red carpet events and in movies to really show what glamor looked like.
Another trend started by the De Beers company was, originally, the 1-month salary rule. Whowhatwear.com informs us that De Beers, using another advertising crusade, advised would-be grooms to "spend one month's salary on the ring to save money." Obviously, inflation being what it is, this advisement has grown a bit more expensive over the years.
Besides suggestions on how much should be spent on a ring, I just found another bizarre rule: The Age Rule. This rule maintains that the carat size of the diamond should match the age of the woman (Financialsamurai.com). I don't know who came up with this or even what to do with this information.
It seems to me that an engagement ring should match the personality of the person receiving it. It should be indicative of the level of understanding that the couple shares. There are a lot of antique stores out there carrying one-of-kind, inexpensive rings. Personally, I think these are more interesting than mass-produced and over-priced chain jewelry store rings. But as I've said, I am a simple woman.
If you are dead set on going the 3-month route, your Bourke Accounting expert won't try to talk you out of it. Unless, of course, such a decision would make you financially insolvent; your Bourke Accounting professional won't let that happen without a fight. If you are planning on getting engaged this year, why not meet with your friendly Bourke Accounting representative and see what options make sense for your financial future?
Come see us any time. Our number is 502-451-8773 and don't forget to visit our website at www.bourkeaccounting.com. See you soon!
Written by Sue H.