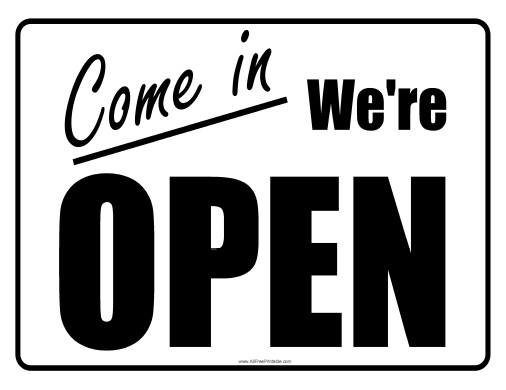 Sadly, most of us have to work. And, sometimes, our work schedules make getting the important things done less than easy. Take, for example, completing your tax return. How are you supposed to meet with a tax preparer if s/he only works the same exact hours that you do? Here at Bourke Accounting, we have felt your distress and aim to alleviate it.
Bourke Accounting has already extended our hours for this tax season:
We are now open Monday through Thursday from 8 AM all the way until 7 PM. Friday, we're open from 8 AM until 5 PM.
"But, Sue," you say, "I am only free on Saturdays to receive the best in Bourke Accounting tax preparation services!"
In that case, maybe you should swing by Saturday, from 8 AM until 2 PM. We got you.
Right now is the perfect time to call the office or email your favorite Bourke Accounting tax preparer to set up an appointment. However, if you're too busy (or don't want to sacrifice a Saturday), you can always drop off your documentation. If you don't want to do that, you can even mail your information! Like I said, we got you.
Another thing that Bourke Accounting offers (besides superb accountants and bookkeeping options) is a seminar every couple of months to promote one of our clients. These guys have a lot of interesting information to offer. For example, on January 22 at 6:00 PM, Bourke Accounting is going to host a free tutorial, given by AEDs & Safety Services, LLC's Marianna Perry, focusing on Cardiopulmonary Resuscitation, Automated External Defibrillator, Workplace First Aid Requirements and First Aid Supplies. You never know how useful something like this can be until you're in a very precarious situation. I'm no Florence Nightingale, so you can bet that I'll be paying attention: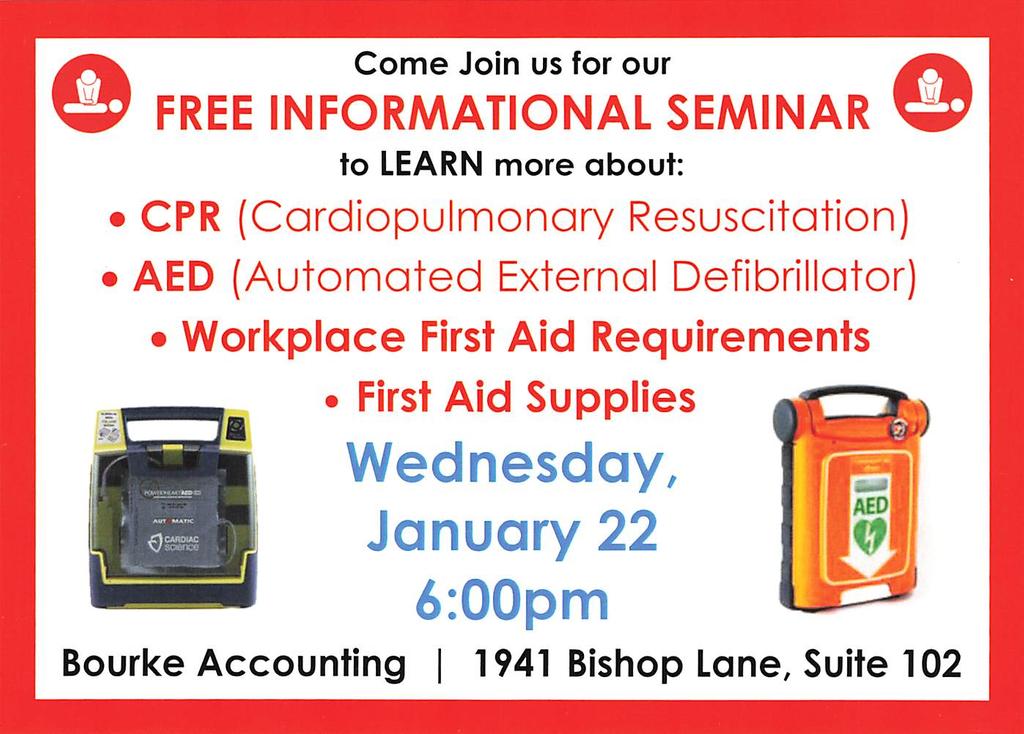 Another can't miss seminar is being offered on March 25th by WSF Productions' (Westside Fairytales) creator Tyler Bell. Mr. Bell hosts/writes a "horror and dark fiction anthology podcast" and, I, probably, don't have to point out that I'll be there with bells on.
There are two more reasons why you should really come to these free seminars: Bourke provides free food and booze. Please believe, you won't be served Saltine crackers and Pabst Blue Ribbon (I like both…). When Bourke Accounting says "Thank you" to their much-loved clients, they pull out all the stops.
So, do you want your tax preparation and bookkeeping done right? You know that Bourke Accounting is your only choice. Want to hear worthwhile information that you can't find anywhere else? Stop at Bourke Accounting from 6:00 PM to 7:00 PM, eat food, have a few drinks, learn cool stuff and meet the team!
Come see us any time. Our number is 502-451-8773 and don't forget to visit our website at www.bourkeaccounting.com. See you soon!
Written by Sue H.