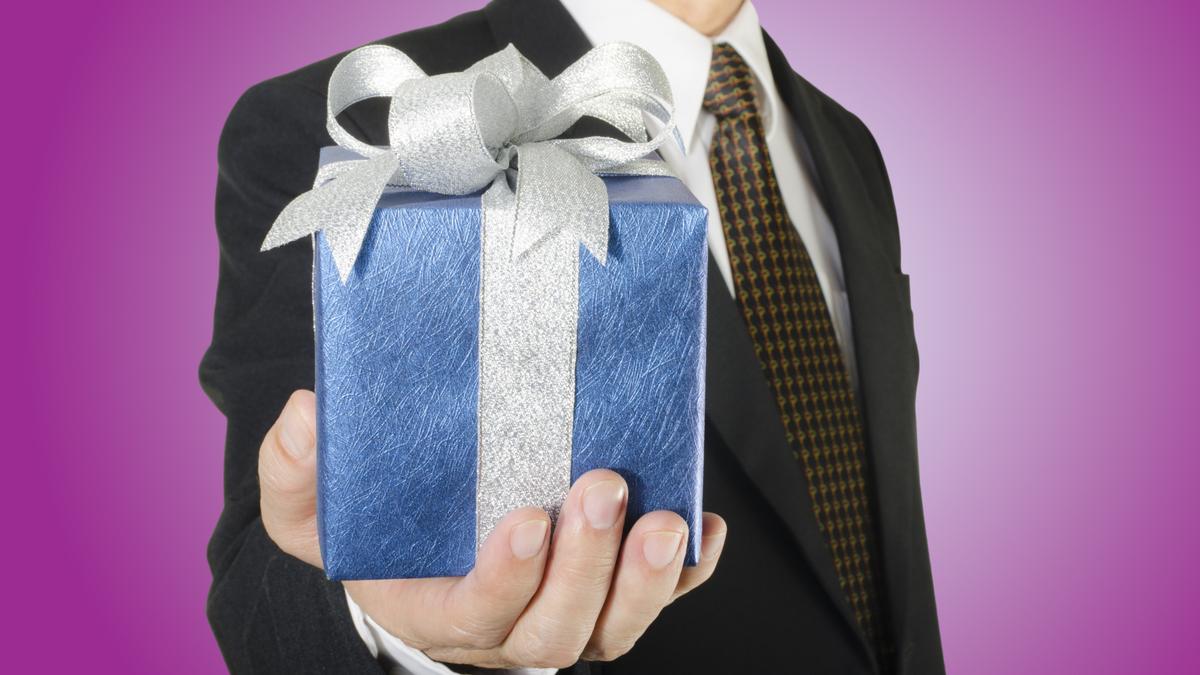 The Holidays are coming.
As most of us are wading through crowds at the mall and looking online for impossible presents for that impossible cousin, I'd like to pause for a moment to pity all of the business owners out there.
Not only do business owners have to think of clever gifts for their families, they also have an extra, ill-defined figure to worry about: The Client.
Business owners know that it makes good sense to give gifts to clients; they want to demonstrate to the client that their business has been appreciated. Not only that, a good businessperson wants to make sure that the service they offer is in the forefront of a client's mind. So, when Grace's toilet backs up, she'll look at that lovely bouquet that Joe Dokes Plumbing gave her and who do you think she is going to call?
While it's great to be looked upon as grateful and generous, as a business owner, you have to be a little conservative.  That is, if you'd like to survive until next year. The IRS only allows you "to deduct no more that $25 of the cost of business gifts you give directly or indirectly to each person during your tax year." That means, if you were to buy Client Ted a ticket costing $165 for San Francisco's Beach Blanket Babylon, you'd have a loss of $140. Even though you paid $165, you would only have that $25 as a deductible expense. 25 bucks seems like a fairly paltry sum, right? That could be because, according to Nolo.com, it was established in 1954. Hey, in 1954, 25 dollars was a pretty good amount of money!
In the old days (as in 2016), if you were to accompany Client Ted to Beach Blanket Babylon, you would have been able to deduct 50% of that monetary amount (as long as you talked business a bit). However, with the new Tax Cuts and Jobs Act, Marketwatch.com advises us that, "starting in 2018, the costs of entertainment expenses will no longer be deductible." Even dinner is a gray area if you don't talk business all evening. And I do mean all evening.
As a business owner – and this sounds mercenary – you have to prioritize. If you haven't worked with a client for 3 years, why send that meat and cheese gift basket from Harry & David? However, if Client Ted put thousands of dollars into your coffers this year, maybe that $140 Beach Blanket Babylon ticket loss is well worth it.
Whether you have enough clients to fill a teacup or enough clients to fill the entire dimensions of an airplane fuselage, you have to know what sort of gift giving works for you and your budget. Bourke Accounting associates can help you this holiday season. While they want you to continue to be financially solvent, they also understand Plautus' belief that "you must spend money to make money."
Our Bourke Accounting experts not only can help you with you accounting and bookkeeping needs, they can offer solid advice regarding appropriate gifts to bestow upon your clients. Bourke Accounting can analyze what would work in the long run as you show gratitude and keep your head above water in the process.
Come see us any time. Our number is 502-451-8773 and don't forget to visit our website at www.bourkeaccounting.com. See you soon!
Written by Sue H.