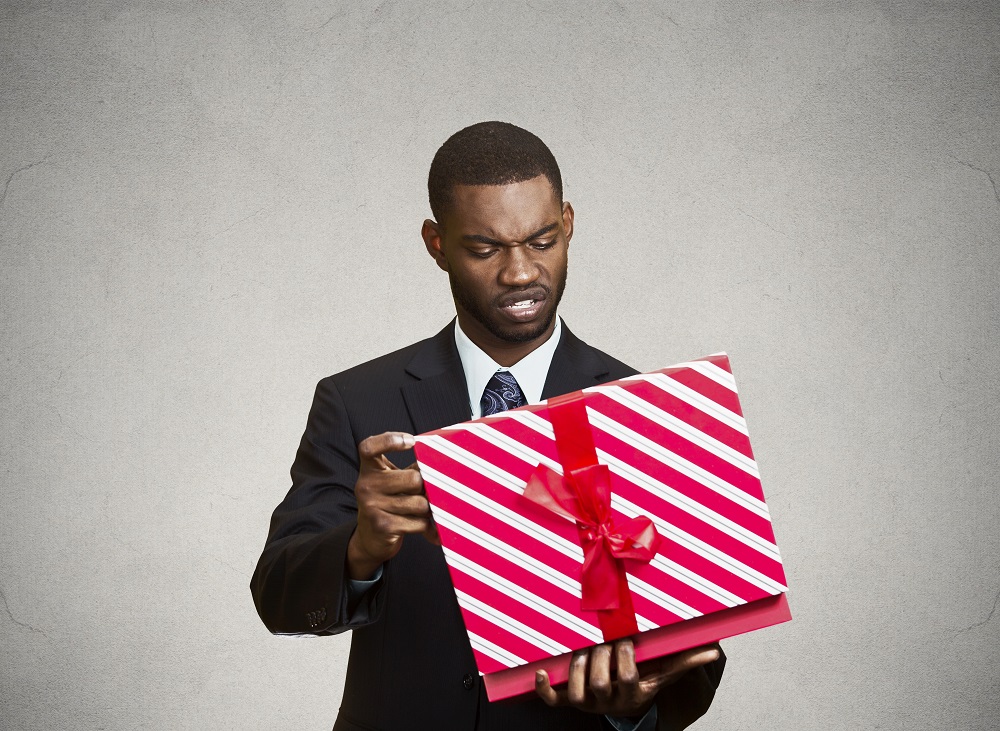 I don't have to tell you that the holiday season is upon us. We have already tolerated the same 3 Christmas songs on a mind-bending loop as we have struggled through the mall (and every other public space). We have donated to well-meaning Santas collecting for well-meaning causes, we have bought some nice things for people we know very well.
And then, of course, we have run, face first, into a familiar obstacle: what do we give to people we don't know very well?
Whether it's a gift for a co-worker we've exchanged a single sentence with or for a distant cousin we've only met twice, we're in trouble. How can we possibly know what is an appropriate gift for someone we don't really know?
There are some gifts that we know aren't appropriate. For example, we're not going to give Shelly-I-Don't-Know-Her-Last-Name in Accounting a puppy. Also, we know to avoid [Blank] of The Month Gifts. That first shipment of Granny Smith apples will be appreciated; 6 months later, that pile of kumquats on the table and the fruit fly infestation won't be. Finally, underwear. No, no, no, we're not giving intimate underclothing to our mail carrier (at least I'm not).
So. Where does that leave us?
Well, that really depends.
If you've had a conversation about books with your doorman, a gift card to Carmichael's Bookstore isn't a bad idea. Likewise, if you've spoken about craft beer, a six-pack with a bow is thoughtful. We're not trying to fulfill lifelong dreams with these presents; we're simply telling the recipient that they are appreciated.
A lot of people find scented candles a nice, innocuous gift. There is really nothing offensive about a Holiday Evergreen Cinnamon Surprise candle, after all. Also, scarves, gloves and coffee mugs are okay. Anything a person can use on a day-to-day basis makes a nice gift (I would avoid toilet plungers, though. Useful, yes. Kind of gross, totally).
When buying for a virtual stranger, I would suggest that you learn at least one thing about the recipient to make the gift a bit more personal. Does Marie in Sales only wear neon colors? Hey, look! Here are some retina-scratching neon bangle bracelets! Paul in bookkeeping talks about Harry Potter all the time. Wouldn't he just love this Hagrid bobblehead for his desk?
You don't have to buy your Bourke Accounting associate gifts – your smiling, shining faces this season are the only presence required (I know, I know. I couldn't resist). However, the gift our Bourke Accounting experts will give you will benefit you throughout the year. Not only will our Bourke Accounting professionals make sure that you stay financially solvent, they will take the time to answer any questions you may have. And let me tell you, the personalized service you receive from your Bourke Accounting specialist will outshine any candle you receive from Rhonda in Project Management.
Come see us any time. Our number is 502-451-8773 and don't forget to visit our website at www.bourkeaccounting.com. See you soon!
Written by Sue H.