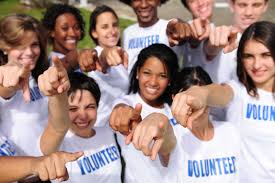 My best friend in high school volunteered at a soup kitchen. Because she was my best friend, when she asked me to lend a hand, I agreed.
I'm not going to lie. When I first started, 14-year-old me was frightened by some of the people. There were folks with mental difficulties, some didn't smell very good and some had clear drug addiction issues. Also, the people who ran the kitchen encouraged us to listen to customers who wanted to talk.
So, I did.
I learned patience, as some of the stories I was told didn't make much sense. I learned empathy because the stories that did make sense were heart-breaking. I learned how to work hard. I also learned that just because these people were down, didn't mean that they were out. I learned to treat people with respect, regardless of the amount of cash in their bank account.
In all, I was helped by helping.
Getting kids to volunteer is important. Of course, there is the mercenary reason that volunteer work looks good on a college application. Beyond that, Handsonmaui.com mentions studies that "show that children and teens who volunteer are more likely to do better in school, avoid engaging in risky behavior, and even graduate from college." Finally, doing volunteer work shows children that the world does not revolve around them and that they have a responsibility to their community.
A lot of parents might not feel comfortable with their children volunteering at a soup kitchen and I understand that. However, there are many other volunteering options out there. Parents.com suggests that families volunteer together and offers a list of "10 Ways Kids can Help." These are kid suitable choices that can really bring a family together.
For example, one recommendation is visiting nursing homes and hanging out with the elderly. This is volunteer work at its finest; no money required, just companionship. They also suggest helping at animal shelters (I couldn't do this. I'd end up with 30 dogs before my second week).
Naturally, one shouldn't force their child to volunteer – that would come across as a punishment for a crime the child doesn't even remember committing. A parent should broach the subject of volunteering and make it a fun, bonding time.
Bourke Accounting associates give a lot of their free time to good causes. Sadly, when you have your tax preparation and bookkeeping needs met by one of our Bourke Accounting specialists, you will be charged. However, when you experience the level of Bourke Accounting's professionalism, the double-checking, the endless questions in your best interest, you will feel that you have been the recipient of an altruistic, national charity.
Come see us any time. Our number is 502-451-8773 and don't forget to visit our website at www.bourkeaccounting.com. See you soon!
Written by Sue H.